Ballet Clásico de Valencia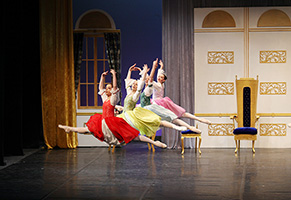 Ballet Clásico de Valencia was created in 1984 as a non-profit Cultural Association with the intention of promoting Dance, as well as offering dancers from Valencia the opportunity to go on stage, to demonstrate their work and dedication.
With great enthusiasm and efforts, countless performances have been carried out and its value has been demonstrated from the beginning.
From the beginning of its career, Ballet Clásico de Valencia presented classical repertoire choreographies (Coppelia, Paquita, El Cascanueces) as well as neoclassical pieces, created specifically for this training, by choreographers who have been enriching it such as Geoffrey Davidson, Vicente Gregori, Gerard Collins, Nigel Bourgoine (Royal Ballet), Steffen Long, Peter Clegg (Royal Ballet), Adrian Davis, Robert Poll, Michael Beare or Serguei Baranov, among others.
A significant number of Valencian dancers have passed through its ranks:
| | | | |
| --- | --- | --- | --- |
| Federico Bosch | Mª José Sales | Carlos Labios | Maria José Soler |
| Gemma Peris | Noelia Liñana | Jesús Mascarós | Miguel Ángel Plá |
| Ana Luján | Clara Barberá | Geles Alonso | and a long etc. |
All of them managed, after passing through Ballet Clásico de Valencia, to work in some of the most prestigious dance companies in Europe such as the English National Ballet, Rambert Dance Company, Barcelona Ballet / Corella Ballet, Dancing National Company, Ananda Dansa, Other Dance, Cienfuegos Dance, Classical Ballet of Zaragoza, Cesac Gelabert, etc.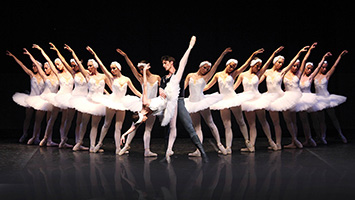 Although the creation of Ballet Clásico de Valencia as such takes place in the 83-84 year season as the Valencian Dance Center Ballet , appearing in the Cultural Center Caja de Ahorros, Valencia and later at Teatro Principal and it is in the 84-85 season when it is already presented as Ballet Clásico de Valencia after winning the Provincial Council Grant for Musical and Theatrical Productions, carrying out the program that motivated the Award Prize at Teatro Principal in Valencia.
In the 85-86 year season, coordinated with the Cultural, Education and Science Regional Ministry of the Generalitat Valenciana, it carried out a diffusion Campaign to approach Classical Dance to the Valencian Region, which supposed the accomplishment of performances in 10 regional theaters.
In 1988, the first program "Invitation to Dance" was held at Palau de la Música in Valencia; These were educational courses approaching dance to children and created with the aim to show and educate in dance.
In 1989, also within the Cultural Diffusion Campaign of the Excmo. City Council of Valencia, it was presented the II Invitation Program to Dance in which Coppelia was represented (Act II) at Palau de la Música.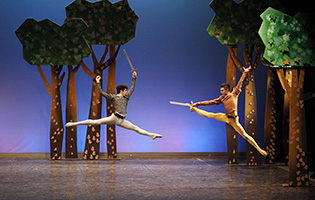 In April 1990, presented at Palau de la musica in Valencia the 3rd Invitation Program to Dance with Nutcracker Ballet (Act II) choreography by Peter Clegg (former Royal Ballet ex dancer).
In September 1990 acts as Valencia City representative in Dance modality at the Biennial of "Young Creators of the Mediterranean", which was held in Marseille on that occasion.
In 1991, presented at Teatro Olympia in Valencia a new program including Classical Ballet Repertoire as well as neoclassical choreographies produced specially for Ballet Clásico de Valencia.
In Christmas 1991 at Teatro Principal in Valencia " The Nutcracker" was premiered, Music Production 92 represented for the first time on those days in Valencia having such an excellent reception from the public that forced to put "sold out " at the ticket office during the four performances that were done.
In Christmas 1992, and coinciding with the First Centenary of "The Nutcracker", the ballet production was revived at the Main Theater of Valencia, with similar success from the previous season.
In February 1993, presented at Teatro Principal in Castellón and, later at Teatro Olympia in Valencia, a new program which was applauded by the public in both theaters.
In March 1993 and in the Theater World Day act, received the Generalitat Prize Better Show for its 1992 production "The Nutcracker" by popular voting.
In May 1993 participates with "Paquita" in a Ballet Gala to benefit Unicef. During 1993/1994 and 1994/1995 Christmas period, the Nutcracker reappears again at the Main Theater in Valencia, and in the Spring of 1994 it presents some Educational Dance programs for young people in the same Theater.
In that same year is programmed to present a show within the opening performances at the Ribarroja Auditorium.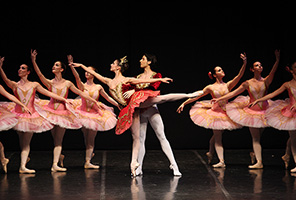 During 96-97 season it was programmed again by Teatres de la Generalitat to perform at Teatro Principal de Valencia "The Nuckcracker", obtaining another great success by reaching in the six performances an average occupation of over the 90% and placing "Sold Out" at the ticket office. Established at that time as a family and Christmas symbol it returned to triumph once again.
During 98-99 season enters the S.A.R.C. circuit and performs at the Auditorio Municipal Ribarroja in the dance groups category selected for that circuit, as well as in Theaters and Cultural Houses at Museros and Albuixech.
In May 2012 at Teatro Olympia in Valencia, Paquita and The Swan Lake were represented, with the collaboration of professionals such as:
Begoña Cao principal of the English National Ballet
Esteban Berlanga first soloist of the English National Ballet
Fernando Búfala first dancer of the Barcelona Ballet (Corella Ballet) and currently soloist of the English National Ballet
Maria José Sales soloist at that moment of the Barcelona Ballet (Corella Ballet), currently again with the English National Ballet and former Classical Ballet dancer of Valencia
Clara Barberá, ex-soloist of the English National Ballet, former dancer of Rambert Dance Company and former Ballet Ballerina of Valencia and current member of the Advisory Council of Dance in GVA Culturarts; Secretary / Treasurer and Administrative Coordinator at Berklee Valencia
In order to promote and support the Dance in Valencia.
The last production, The Princess and Lute (La Princesa y el Laúd) was made in 2014-2015, with the support of Fundación Hortensia Herrero. A show by and for the children, to go with the family, to promote and spread Dance among the little ones, so that they feel, value and appreciate performing arts.
It is an unpublished tale created expressly by Mari Cruz Alcalá for this ballet creation.
It should also be noted that the ballet music was composed expressly for the occasion by maestro José Jaime Hidalgo.
It premiered at Teatro Principal Valencia in January 2015. It was also performed at Teatro Principal Castellón and in different towns of Valencia Autonomous Region with great success from audiences and critics.