Funky Classes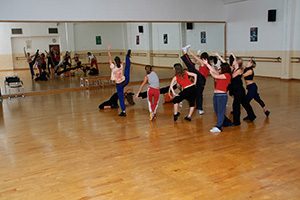 Funky is a style of dance music that has its origin in the streets of New York and is part of street dance. The movements are sharp and expressive and are used, above all, arms and trunk.
In our funky classes at Valencia we give classes of 'Jazz Funk'. Within the urban dance is the closest part to 'Contemporary discipline'. It is also combined with 'Hip Hop', 'New Style', 'House Dance', 'Ragga', 'Waacking' and a long etc.
Through careful choreography, you will learn not only musicality, rhythm and coordination, but it will help you recharge positive energy through fun choreographies and current music.
Exercise memory, agility and is a perfect exercise for all kind of people and ages.
We have several groups for different ages starting at 8 years old.
Come and have fun learning and exercising at the same time!
Why choose us?

Quality in teaching
More than 50 years of experience endorse us as one of the best Dance Centers nationwide.

Facilities
With 5 schools and more than 2000 m2 of facilities, we can offer a wide variety of options.

We are a great family
Despite our size, we do not stop being a family business, so the treatment is close and personalized.
---
Courses taught in our schools:
Ballet
Flamenco
Contemporary
Funky
Ballroom Dance
Sevillanas
Tap Dance
---
---
---