Flamenco Classes - Spanish Dance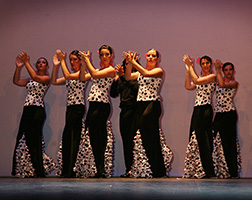 Our center is also approved to teach the speciality of flamenco, so we not only have classes for beginners or amateur level, but also at a professional level.
The study of Spanish Dance includes a series of practical disciplines which are: Flamenco, Classical Spanish (Stylization), Folklore, School Bolera (dances of the eighteenth century), Ballet (Classical Dance), and Castanets.
Registration Course 2023-2024, sign up now!
Flamenco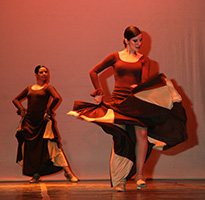 In addition to amateurs and beginners classes,we have classes at a professional level, since we are the only Authorized Center in the Valencian Community that teaches the specialty of Flamenco Dance and that leads to obtaining the Title Flamenco Dance Professional.
We also have special Flamenco classes for children.
Without a doubt it is the best known part of the Spanish Dance, the most universal, because of the wide diffusion of different "dancers" and musicians who practice it. For the lack of this last, the rest of Spanish dance events are virtually unknown outside of Spain. Our interest and purpose is the teaching and staging of these Spanish cultural treasures yet to be discovered for the public.
This speciality also entails classes of:
Classic Spanish or Stylized Dance
The Spanish Classic (Stylization) is the most sophisticated way of choreographing the classical music of the great Spanish authors.
Manuel de Falla, Albéniz, Granados, Turina, and a long etc. This way of interpreting dance is usually practiced with shoes, castanets, and sometimes classical shoe. Its aesthetic reminds us of flamenco and a little folklore.
Folklore
Spain is one of the richest countries in terms of the variety of its Folklore. Each Spanish region has its typical dances, some are centuries old. A Galician doll has nothing to do with Malaga verdiales, a Basque zorcico, or Catalan sardana. Folklore is the most authentic cultural manifestation of a region; Spanish folk dance show their diversity and beauty in a unique way.
Bolero School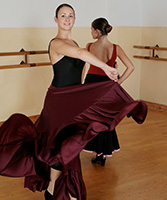 The Bolero School studies the Spanish dances of the 18th century. Known as "Goyescas", these short dances are danced with costumes from the time of the painter Goya, from that his popular name with slippers and castanets. They contain many steps of classical dance (popularly ballet) but with that grace and Spanish style characteristic of its time.
Academic Dance or Ballet
To have a complete training as a dancer in any discipline, it is necessary to study Ballet (Classical Dance). It gives us all the necessary technique to be able to develop with elegance and corporal control any other type of dance; Flamenco, Jazz, Contemporary, etc.
Castanets
The castanets (or sticks) as a percussion instrument deserves to be study separately, developing their musical potential to the maximum. Spanish cultural heritage by excellence, castanets are part of the music and dances of Spain.