Ballroom Dance Classes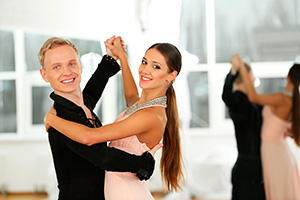 We offer the modality of Ballroom Dancing. The Ballroom Dance includes Latin origin dances in its repertoire.
In a relaxed and pleasant atmosphere you will learn a lot of types of dance: from bachata to cha cha cha, going through merengue, bolero, samba, pasodoble, waltz, etc.
Come, with a partner or without it, to forget about work and disconnect dancing.
With these classes you will exercise and enjoy dancing at parties.
Surely you are renewed!
Registration Course 2023-2024, sign up now!
We also offer private waltz classes for brides and grooms.
Why choose us?

Quality in teaching
More than 50 years of experience endorse us as one of the best Dance Centers nationwide.

Facilities
With 5 schools and more than 2000 m2 of facilities, we can offer a wide variety of options.

We are a great family
Despite our size, we do not stop being a family business, so the treatment is close and personalized.
---
Courses taught in our schools:
Ballet
Flamenco
Contemporary
Funky
Ballroom Dance
Sevillanas
Tap Dance
---
---
---