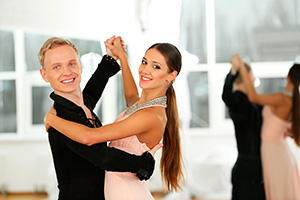 We offer the modality of Ballroom Dancing. The Ballroom Dance includes Latin origin dances in its repertoire.
In a relaxed and pleasant atmosphere you will learn a lot of types of dance: from bachata to cha cha cha, going through merengue, bolero, samba, pasodoble, waltz, etc.
Come, with a partner or without it, to forget about work and disconnect dancing.
With these classes you will exercise and enjoy dancing at parties.
Surely you are renewed!
We also offer private waltz classes for brides and grooms.