Sevillanas Classes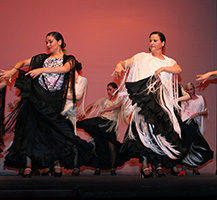 Grace and art are added when dancing the Sevillanas, the dance by excellence in Spain.
Come to our sevillanas classes in Valencia and learn to dance the four sevillanas and initiation to flamenco having a good time.
If you have always wanted to learn to dance, do not miss it, this is your opportunity.
Sign up and go dancing sevillanas to the Feria de Abril in Seville, to Rocío in Huelva, or with us in the Cauce del Río at the Feria de Abril.
It is a fun exercise and suitable for all ages.
We have special Sevillanas and Flamenco classes for children
Why choose us?

Quality in teaching
More than 50 years of experience endorse us as one of the best Dance Centers nationwide.

Facilities
With 5 schools and more than 2000 m2 of facilities, we can offer a wide variety of options.

We are a great family
Despite our size, we do not stop being a family business, so the treatment is close and personalized.
---
Courses taught in our schools:
Ballet
Flamenco
Contemporary
Funky
Ballroom Dance
Sevillanas
Tap Dance
---
---
---