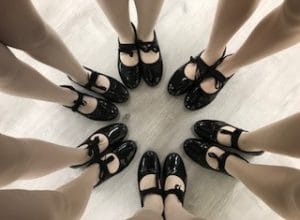 Unfamiliar to many, tap dancing, also known as tap, is a dance style that hits hard in schools around the world.
Adrenaline rush, technical challenge and guaranteed fun are some of its strengths.
With our tap classes you will test your coordination, your cardiovascular endurance, your mental speed and your musicality.
In addition to considerable physical improvement, tap dancing increases self-esteem and generates a sense of happiness that engages students. The continuous feedback in class and the originality of the creations make people have a permanent smile during the whole class.
The improvement in coordination, balance, posture and a general toning of the body make tap dancing a most complete hobby, at any age and whatever the physical condition of the student.